Post by jrchico on Sept 2, 2016 19:53:39 GMT -5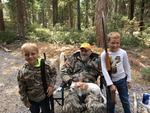 Oh, OUCH!!!! Yes, that IS a major issue there. You'd think that Apple would be accommodating and understanding in a situation like that, wouldn't you?
Since I have been active on the internet for a long time and through the years have participated in various places, added things to my software, etc., I have accumulated various passwords and user names. From the very beginning I started jotting user names and passwords down on a "cheat sheet" so that if for some reason I need to log in to a website forum again or need to set up my accounts on a new computer or mobile device, I've got all that kind of info at hand. I join a new forum or I purchase something at a new website and need to have a user name, etc.? I set it up and immediately record the info for later reference -- and believe me, there have been times when this has been VERY handy!
And, yes, I do it the old-fashioned way by committing the info to paper rather than hiding it in some obscure online software password program. I still haven't quite surrendered and tossed out pen and paper yet! In my kitchen I have a calendar on the refrigerator upon which I note when my books are due back at the library, when I have a lunch date with a friend, when I am attending a Jackie concert, etc., etc. -- even though I have the ability to put all that kind of info into my iPhone, iPad or computer, too. Each morning as I am taking my first sips of orange juice I look at the calendar, see what may be on the schedule for the day or for the next few days. Works for me!
That works for me too. I have all of my passwords in a file on my computer hidden several layers deep in other files and i also have a copy on a flash drive for my kids to use after i am no longer here. My wife was a bookkeeper and an office manager and somehow she kept all of that in her head.