Post by geb on Jun 22, 2019 2:46:43 GMT -5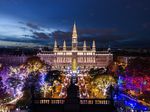 I fond it! Jackie with "A Million Dreams"
www.mgtv.com/b/328843/5856331.html?fpa=se
\
There is another clip but I don't know, if it was before or after here performance
www.mgtv.com/b/328843/5856332.html?fpa=se
Edit:
I just watched the numbers of the clips, so the second clip should be after here performance.
If you want to see everything with Jackie, you need to watch the full show.
www.mgtv.com/b/328843/5856466.html?fpa=se
You can see the group that won this show starting at about 57:20. It was pretty good. All four women judges really liked it. And the group had two of the judges go on stage and interact with them. That probably sealed the deal for them. BTW, the group was NOT Chinese. I did not catch where the group was from. They had a woman translator express what they said in Chinese on the stage. David Foster seemed much less impressed.
Jackie is sprinkled around the show but she performed after the winning group beginning at about 67:53.
An issue was that every one thought Jackie had finished singing after a big crescendo and started to clap. However, there was still one line to sing that was soft. Then Jackie had to indicate that the song had ended so that everyone could clap. It seemed to break-up the flow and thus the enthusiasm ever so slightly that looked to have been created by Jackie.
However, the women seemed to have already leaned toward the prior group in which they interacted directly with them. And sure enough, 3 out of 4 of the women voted for the group. Even singing a little bit of a Chinese song before the voting could not swing the vote toward Jackie. The last woman who voted for the group even praised Jackie as singing "perfect" in both opera and pop. But she still voted for the group. If she had voted for Jackie, then the audience would have been the tie-breaker. But given that the audience picked the group as the overall show winner, they probably would not have voted Jackie thru to the finals.
I just hope the enthusiasm expressed for Jackie by David Foster maybe will lead to something else. David has 16 Grammy Awards out of an amazing 47 nominations! And, in my opinion, David would do a far superior job of production than who Jackie has recently used even though David would hire other engineers and sound people to do the actual work. What makes the difference is his ear for what is great versus just being good. And her best produced album, in my opinion, was that produced by David,
Dream With Me
. And Jackie would have gotten an RIAA platinum award (maybe even multi-platinum which required 200,000 units to be sold) for the PBS show video if not for the rules for defining what was an eligible video (the PBS show was considered that the video was theatrically released before distribution). It was the Billboard US Top Music video in October 2011. All those PBS sales of the music video never were counted. Pretty lousy if you ask me, but the RIAA rules are the rules.
As an interesting side note, in June 2018, David became engaged to Katharine McPhee of American Idol fame (fifth season runner-up losing to Taylor Hicks). It will be his fifth marriage. It will be her second. And talk about an age difference. David is 69 and Katherine is 35.
en.wikipedia.org/wiki/David_Foster
en.wikipedia.org/wiki/Katharine_McPhee
And talk about irony. They are planning to get married in London this summer.
pagesix.com/2019/02/09/katharine-mcphee-and-david-foster-to-have-summer-wedding-in-london/
pagesix.com/2019/05/05/katharine-mcphee-surprised-with-bachelorette-party-ahead-of-wedding-to-david-foster/
people.com/music/katharine-mcphee-david-foster-marriage-license/
And why London? Because Katharine fell in love with London when playing in the musical
Waitress
in the West End which is London's Broadway.

Given this situation, maybe Jackie should have sung
She Used To Be Mine
in China. Would have blown David's mind and, in my opinion, would have been a show-stopper and sealed the deal for Jackie to go thru to the finals.
Wonder if Jackie will be invited to the wedding?
One could presume that David met Jackie and her dad when she was in China both times? It would seem to be something logical to come up in conversation, especially given Jackie's most recent album
The Debut
which just happens to have a song from
Waitress
on it.
Strange how these little coincidences just happen to pop-up.